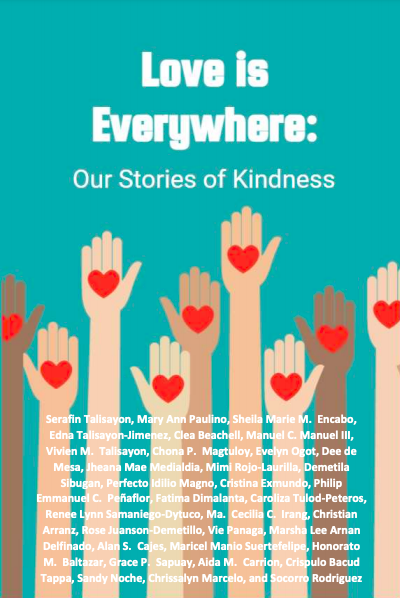 In this pandemic, our minds are captured by concerns of health, safety, and even depression, anxiety and fear.
If we turn our attention to the many instances of kindness happening around us, our hearts are lightened by joy and gratefulness, and our minds are reminded that, indeed, love is everywhere.  In the process, we reduce, though not entirely forgetting precautions, our pandemic concerns.
With this intention, we invited friends from around the world to contribute their stories of kindness - kindness that they gave, received or observed. Over a hundred contributions came in from about three dozen co-authors. Two volunteer editors worked hard to produce this e-book that we are offering to you for free: "Love is Everywhere: Our Stories of Kindness" (click on the book cover to download).
Feel free to disseminate the link to this page to your relatives, friends and networks. Help them see and feel love everywhere, and be inspired and get infected by love and kindness.
As a public service of CCLFI, other e-books you can download for free are (click on the link in the navigation panel at the right):
Healing Our Divided Planet: Stories of Transboundary Learning for our Grandchildren
Follow Your Creatie Pathway: Pursuing Your Next Life Mission
Help Bring about a New Earth