Delivery of Development Results
The online Course on Knowledge management (KM) for Development and Public Sectors is about more effective delivery of knowledge products and services to produce development results.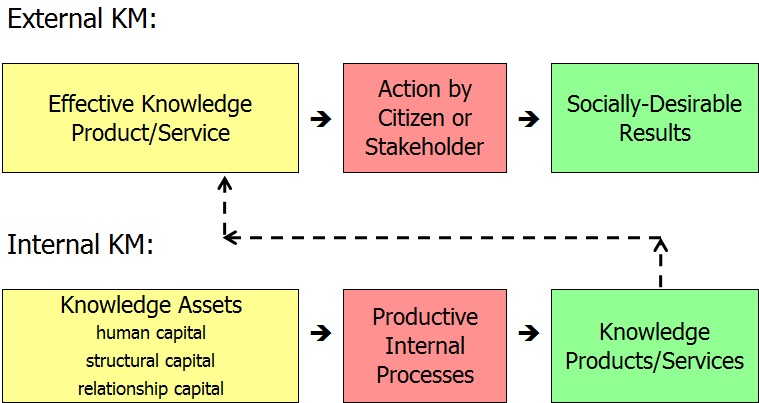 It looks at how government and development institutions should produce and deliver knowledge products and services (KPS) that enable citizens and stakeholders to act and thereby produce development results. It also reflects the fact that KM in the public and development sectors is more complex than that for the private sector. In the former, KM is applied in an environment of multiple actors with varying interests and changing power relations. Development institutions have less control over outcomes compared to public agencies and private corporations. Management interventions are designed and implemented in systems that are more open and porous compared to those in the private sector.
This course consists of two lessons and two to four KM exercises each week. The first lesson is on basic KM concepts and principles, followed by a second lesson on their applications in the public and development sectors. The participants are engaged in group learning as they answer and interact – with each other and together with the Course Mentor – on discussion questions at the end of each lesson. The course will require a total of about two to three hours per week on the part of each participant who can access the course website at any time during the week.
The online Course Mentors are Dr. Serafin Talisayon and Dr. Daan Boom. 
The twenty weekly topics are as follows where the applications of KM in the public and development sectors are in italics.
Definitions and KM framework | KM in the development sector
Tacit and explicit knowledge | What is more valuable?
Aligning KM with organizational objectives | Aligning KM to project objectives
Demand-driven KM | Demand-driven KM: whose demand?
Selecting the right KM tool | Knowledge translation: writing and delivering user-responsive knowledge products
Organizational learning | Tools for cross-project learning and Communities of practice
Innovation: organizational practices | Social innovations
Innovation: practices for individuals | Personal stories of unlearning and innovation in development practice
Managing intellectual capital | Community intellectual Capital and other assets
Formulating a KM strategy | Success factors in KM implementation
The 30 basic KM skills you will learn through practice are:
Content management of a website:
Editing and updating a webpage
Creating a webpage with functionalities to suit its purpose
Managing a threaded online forum
Evaluating how demand/user-driven is a website
Managing intellectual capital:
Setting up a web-based and self-updated expertise directory
Identifying elements of relationship capital
Aligning KM to organizational objectives
Innovating for "next practice": what went wrong and why?
Establishing and managing learning processes in the workplace:
Keeping a learning journal: most significant learning
Making our thinking process visible: mind mapping
Setting up an "Ask Me" procedure
Conducting a lessons-learned session
Motivating knowledge workers:
Making explicit the inner drives of a person: my passions
Explaining benefits of KM to a superior
Identifying and designating in-house consultants
Creating a KM persona that suits a person's talents and passions
Enhancing organizational performance:
Identifying generator knowledge assets and critical knowledge assets
Estimating peso value of a demand-driven intranet
Collecting and organizing work templates
Setting up and managing an online participatory M&E
KM assessments and measurements:
Assessing process efficiency and effectiveness
Identifying potential KM champions
Estimating the market value of my human capital
Selecting KM tools to match workplace needs
Innovation (knowledge creation):
Setting up an idea register
Mining customer complaints
Problem finding versus problem solving
Questioning your assumptions
Two-phase creative brainstorming
Go outside your comfort zone
Successful graduates who went through these lessons include officials from Philippine government agencies (Technical Skills and Development Authority, National Economic Development Authority, and Department of Interior and Local Government) and development workers from Lao PDR, Brazil, Canada, USA, UK, Nigeria, Kenya, Afghanistan, Indonesia, Zambia, Ethiopia, Thailand, Nepal, Egypt, Madagascar, Malawi and Tanzania.
If you bought this Course
After buying this Course from our eStore, we request you to email the course director Dr. Serafin Talisayon (serafintalisayon@gmail.com) so that he can send you the registration form for you to fill up. Please note that this course is held in batches or classes of at least 20 participants. The start date of a class depends on when the minimum class size of 20 is reached. The next class is scheduled to begin on 2 January 2018.
How to Register
It is not necessary to pay now to register for the next class. To express your interest to join this class and receive registration materials, send an email to serafintalisayon@gmail.com.