Online Knowledge Management Practitioner Certification Course
Below are some positive feedback we have received from the graduates of the KM Practitioner Certification Course
"The course is very comprehensive and practical... 
"Online KM course taught me different KM tools that I could use in my work. Plus the knowledge transfer between different cultures is a really great experience."
"The course has taught me to simplify and organize my thinking as a KM practitioner. The approach was to conscientiously shift your perspective from a usually 'cluttered' work process to a more coordinated system using the right KM tool that would encourage action and facilitate accurate and deliberate monitoring and feedback. With the right perspective, knowledge is effectively managed with the least resources with optimum efficiency resulting in the desired outcome."
"The course helped me think of innovative ways to improve our work processes. It is structured in such a way that even those with minimal computer knowhow will be able to maximize the learnings in this course and apply it to their workplace."
"The course was a good guide in identifying work-related issues that led me to identify -- and document -- workable solutions that could lead to necessary improvements in office operations. Processes and output can be replicated in other situations"
 
Feedback from Face-to-Face KM Training:
"The overall course was excellent. I very much enjoyed the discussions and concrete experience sharing the workshop provided. I also enjoyed Apin's flexible style and his wealth of knowledge. Thank you to all! It was one of the best KM training I attended."
– Herve Berger
KM Officer of UNESCAP
-o-
"It was really the most practical KM training with participants who know exactly what they are talking about.
– Naylin Oo, UNESCAP
-o-
"I love your straight-forward lecture on KM. Thanks for reminding us to NEVER stop learning."
– Ms. Arline P. Centra
TQM Assistant, NXP Cabuyao
-o-
"...This seminar is very enriching not only to our work but also to my personal life."
"Good facilitators. Good process. Good experience!"
"It is not the number of training days that will give one the best insights but the awareness of the internal processes that happen in one's mind so that knowledge gained is transformed into creative and innovative ideas. This two-day workshop did broaden my horizon of how learning happens."
"Good workshop! Good combination of facilitators, modules and exercises. It inspired me to do self discovery to improve my personal and professional life." 
– Feedback after a KM Team Formation Workshop
National Commission on the Role of Filipino Women
-o-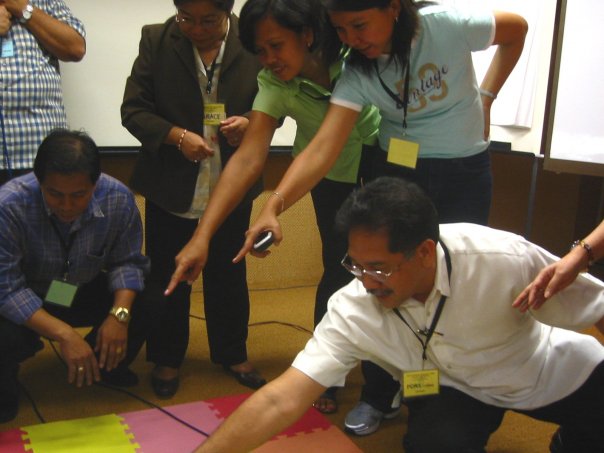 "Nakakatuwa [It was fun] – non-threatening, enjoy."
"Ibang klase si Apin [Apin is of a different class], open siya [he is open],walang ere [no pretenses], secure, welcoming." 
"Sobrang lalim – kailangan ko ng panahon para maisip at sabihing oo nga ano" [Very profound – I need time to reflect before I can say 'yes that's right.']" 
"I think this is what they call reflective teaching in action."
– Feedback from teachers at Dela Salle Green Hills
after a session on Creative Teaching and Learning
-o-
Other Feedback
"WHO Philippines is satisfied with the expertise, reliability and professionalism of CCLFI. We are aware that the end-client, the Department of Health, had engaged CCLFI in other projects funded by other donor agencies, which indicates that the Department is also satisfied with the quality of processes and outputs of CCLFI."
– Dr. R. Velayudhan
WHO Representative
World Health Organization – Philippines
-o- 
"As a result of the work of CCLFI, we at the Malampaya MMT are less vulnerable to the loss of knowledge resulting from the frequent changes in its membership. The learning orientation and procedures installed with the help of CCLFI helped us in making continuous learning and documentation a habit. We are approaching our vision of becoming a 'living and learning organization.'"
– Ms. Esperanza Sajul
Chief, Environmental Impact and Assessment Division
Environmental Management Bureau
Department of Environment and Natural Resources
-o-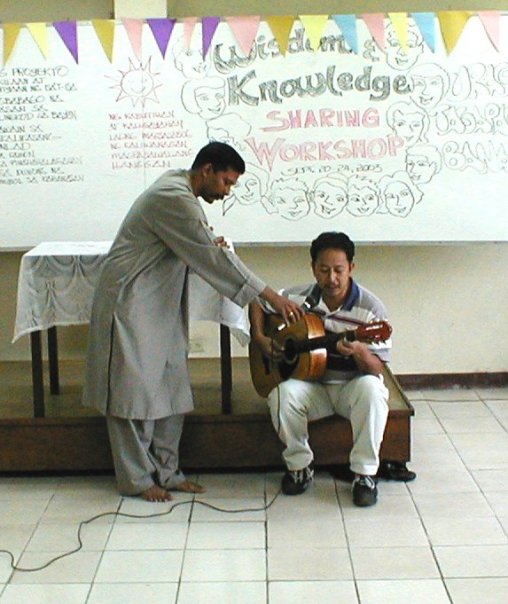 "Kapansin-pansin ang kanilang kakayahan o kaalaman tungkol sa pagpapatakbo ng workshop, hindi lamang sa antas ng 'ulo' (teorya) subalit higit ay sa antas ng 'puso' (intra-personal). Wala na akong maimumungkahi sa kanila dahil ito ay kanilang nabalanse ng husto at may kabukasan o `flexibility' sa approach/programa batay sa nakitang pangangailangan ng mga kalahok na grantees." 
[The capacities of workshop facilitators are noteworthy, both in theory or intellect (the "head") and more in intra-personal ("the heart") skills. I cannot suggest further improvements because they were able to balance the two and they showed openness and flexibility in the approach/program of the workshop in response to the needs of the participants-grantees.]
– One of the participants
Wisdom and Knowledge-Sharing Workshop
UNDP GEF SGP Project on "Leveraging Best Practices"
-o- 
"The development of the Intranet was a very challenging activity. To be able to put all the information and knowledge in a one-stop shop for the benefit of the organization is just a great achievement."
– One of the participants
KM Training for the National Water Resources Board
-o- 
"The exchange of ideas went very well. I would call it an awakening... On the improvements, I agree with everyone, we need more time to discuss. I feel that I still have to know the person wearing the ideas so there is a need for more time." 
– Mr. Rey Alcances
Chief, EIA Division
Environmental Management Bureau
-o-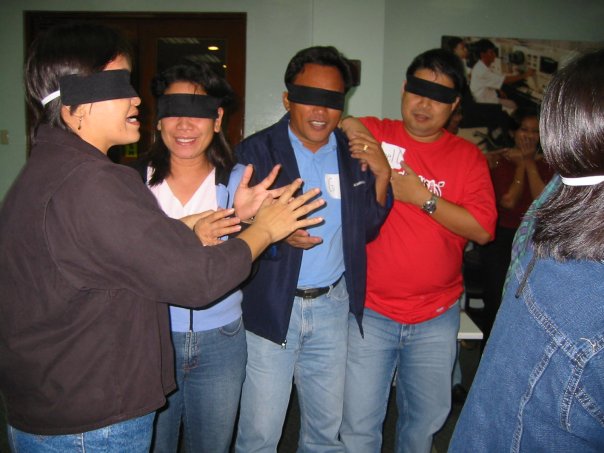 "I learned that learning can be tremendously fun… the atmosphere becomes conducive if you have fun while learning."
"The process, the flow, the sequence of events were very well placed and very appropriate that even the games brought us to higher levels of interaction." 
"Here, we are taught to take notice of those that are not usually taken notice of in the ordinary course of thinking." 
"I passed through the `unlearning' stage, then the `learning' stage, then perhaps it may be more than this, but the end of it is the 'appreciation' stage."
– Feedback from four participants
Lessons-Learned Meeting
for the Palawan Sectoral Monitoring Team
Malampaya MMT