CEO, Director for R & D and Knowledge Innovation Expert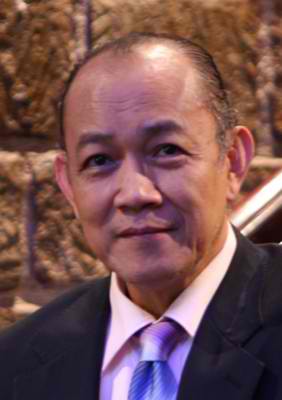 Dr. Serafin Talisayon is known as the "Father of KM in the Philippines," after co-founding CCLFI in 1999, starting the first KM course at the University of the Philippines in 2001, and spearheading the establishment of the KM Association of the Philippines in 2002.
He is a Chief Expert in KM at the Asian Productivity Organization (Tokyo), the Vice-Chair of the Society of KM Professionals and a member of Entovation 100, a global network of 100 leading KM practitioners.
He was KM consultant for the World Bank (Manila), European Union, the Asian Development Bank, the United Nations Development Programme (Bangladesh, Cambodia, Philippines and New York HQ), Islamic Development Bank (Jeddah), the WHO Western Pacific Regional Office, the ILO Regional Office for Asia Pacific (Bangkok), UNISDR (Bangkok and Geneva HQ), IBM Philippines, SEAMEO (Bangkok), the Asian Productivity Organization (Tokyo), the Baganuur JST (Mongolia), Shell Malampaya MMT, Dunamis (Indonesia), Institute of Development Studies (U.K.), IKM Emergent (Netherlands) with EADI (Germany) and the Ambedkar Institute of Productivity (India).
Serafin's varied experiences include work for the Philippine Government in knowledge-based development as part of national development strategy. In 1988-1992, Serafin set up and developed the Economic Research Group for the Department of Finance' economic intelligence bureau, which undertook a series of studies in the Philippine political economy. In 1992-1998, he was appointed by President Fidel V. Ramos as Assistant Secretary for Policy of the National Security Council, where he assisted in the formulation of Philippines 2000, President Ramos' reform and economic strategy for global competitiveness and people empowerment. At NSC, he headed the Policy and Plans Office whose responsibility is to undertake policy research, recommendations and formulations in various development and reform initiatives. He was also tasked to lead the formulation and piloting of pamathalaan, a course for government executives on God-centered leadership or - as defined by President Ramos - "pamamahala kasama ni Bathala" or governance with God.
He is a member of the Editorial Board of the Knowledge Management for Development Journal. He wrote two books on KM, co-authored two e-books (on KM for poverty alleviation and on post-project knowledge capture), edited four books on KM, and wrote papers on KM for the development sector. He has presented papers in KM conferences and meetings in Jakarta, Taipei, Seoul, Yogyakarta, Kuala Lumpur, Beijing, New Delhi, Hong Kong and Singapore; gave KM lectures in Vietnam, India and Indonesia; and was conference rapporteur of KM conferences in Bangkok and in New Delhi.
His contribution to the public services of CCLFI is to write or co-author books on personal and spiritual development, most of which CCLFI offers freely to the public. His latest books in this direction are (1) Healing a Divided Planet: Stories of Transboundary Learning for our Grandchildren which applies organizational learning principles to serious problems mankind is facing, (2) Follow Your Creative Pathway: Pursuing Your Next Life Mission (lead author) which is a self-development guide based on empirical and experiential data, (3) Our Hearts And Minds Together: A Practical Handbook In Emotional Intelligence which is a practice-oriented manual to help leaders hone their emotional intelligence competencies, (4) Help Bring about a New Earth, which was triggered by the anguish, confusion, fears, and depression suffered by his students when the pandemic started, (5) Love is Everywhere: Our Stories of Kindness, a collection of stories from our friends around the world to help spread positivity amidst the pandemic, and (6) Love Languages of God: Our Experiences of God, to be published in 2023 by Balboa Press. As of mid-2023, Dr. Talisayon is leading a group in writing and field-testing a Guidebook on God-Centered Leadership which consists of interfaith practices of discernment leading to the 12th or apex emotional intelligence competency of inspirational leadership, modeled after Jesus or Yeshua.
As Director for R&D at CCLFI he had designed, developed and tested:
Learning Organization Diagnostics©
Online KM Practitioner Certification Course featuring practice of 30 basic KM skills and set up its practice website
Online KM for Sustainable Growth for the private sector
Online course on "Planned, Progressive and Painless Transition to Blended Learning", a trainers training course for teachers
A simple tool for identifying Mission-Critical Knowledge Assets
Knowledge for Poverty Alleviation, co-authored with Jasmin Suministrado
Method for Post-Project Knowledge Capture
Low-cost and simple practical KM projects for the workplace
Rapid method of assessing innovative product ideas
Quick Checklist to Assess How Demand-Driven is a Website
KM Assessment Suite
Two tools to bring out and prioritize workplace problems that KM may be able to address: the Quick Business Process Assessment and the Capability Assessment Checklist