Director, Technology and Pedagogy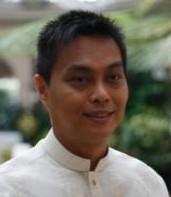 Ruben is a certified Agile Coach, Scrum Master, and an IT and management consultant. He has worked with private and public sector organizations in fields such as enterprise-wide IT change management, application development, strategic planning, and process improvement. He has helped troubleshoot and revive failing or failed IT projects in government and the private sector. 
As the former MBA coordinator of the Ateneo School of Medicine and Public Health (ASMPH), he helped develop and run the MBA program in that pioneering medical school. He developed or enhanced the curricula in Health Informatics, Leadership, Human Resource Management, Management Principles, and Strategic Management. He also helped institute the one-on-one mentoring and coaching program for students at ASMPH.  
Early in his career, Ruben produced investigative television and education shows for an internationally acclaimed television show, The Probe Team. He switched tracks to help set up one of the first internet service providers and online magazines in the country. 
Ruben has worked with the World Bank, World Health Organization, Asian Development Bank, USAID, Intel, Globe Telecoms, and San Miguel Corporation. He completed his MS in Information Technology at the Carnegie Mellon University and his MBA at the Ateneo Graduate School of Business.